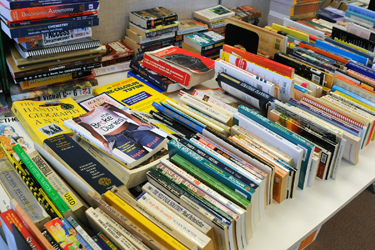 The Volunteer Friends for the Mason Library (VFML) holds regular book sales four time a year.
Sales include fiction and non-fiction in hardback and paperback editions, children's books, CD's, DVD's and audio books that have been donated to or discarded from the library collection. Books are sold for very reasonable prices. Watch this page or look for a poster on the front door of the library announcing the next book sale.
Proceeds from book sales support programs at the Mason Public Library. Donate your used books to our next sale by taking them to the Mason Public Library. Thank you for your support.
Book Sale Dates for 2023
March
Thursday March 9th: 10am-7pm
Friday March 10th: 10am-4pm
Saturday March 11th: 10am-12pm
May
25 cent sale
Wednesday May 3rd: 1pm - 4pm
Thursday May 4th: 10am - 7pm
Friday May 5th: 10am - 1pm
August
Thursday August 3rd 10am-7pm
Friday August 4th 10am-4pm
Saturday August 5th 10am-12pm
September
25 cent sale
Thursday September 28th 10am - 7pm
Friday September 29th 10am - 4pm
Saturday September 30th: 10am - 12pm
November
Thursday November 16th: 10am-7pm
Friday November 17th10am-4pm
Saturday November 18th 10am-12pm
---
| Return Home | Book Sales | FAQ Page | Contact Us | Make A Donation | LaRosa's Fundraisers | Calendar |